Since the time I arrived from a three-week vacation and a side trip getaway in one of The New Seven Wonders of Nature and in The Last Frontier of the Philippines, we haven't been getting any trips so far. So last month (15 May) we went to a family gathering hosted by our neighbor which was held in a local children's park. The kids are excited and so does our son that he is even risking his own safety (that if he knows what safety is) just to climb and test the slides. He would even want to climb on the wrong side of the platform (picture below).
At first, at the top left picture, he seems to be scared going down the slide for the first time in his life and the mother looks even more concerned and was so unwilling to let him go. The picture on the right tells otherwise of being scared and looks more likely that he is enjoying it. While the pictures below appears to be attesting that he indeed, enjoy his best ever ride so far.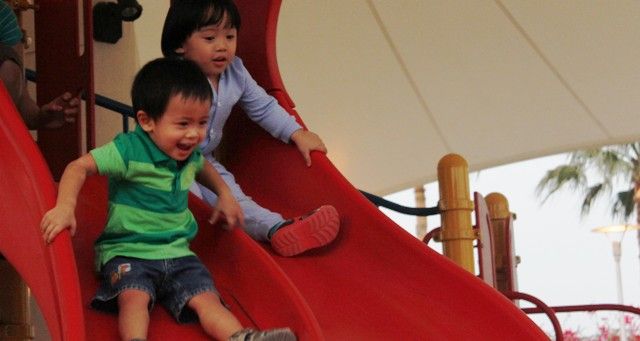 More so that he is even preparing for his next slide and at one point, he even wanted to climb immediately back to the top in the wrong way again.