Our first day at Panglao Island was spent roaming around the small island but on selected sites only. When we arrived at the pier in Tagbilaran City the service was there already to pick us up going to Bohol Beach Club which is part of the package plan we had for the 3 nights and 4 days trip. The car was great and the driver was very kind enough when we ask if we can make a little detour to the bank.
Bohol Beach Club's location, I would say that it's a little bit secluded for it is far away from the national road. On the other hand, it is also a good thing so to keep the place as quite as possible and have the true relaxation we needed.
The area is huge and is evident on the photos below. The first picture was taken down the south side, near the scuba diving shop while the second one is actually just the continuation. If you noticed the lines of manmade sun shades (whatever you call that one) on the far left of the first picture then what you've seen in the next photo is on the other side of it. It has a curve like area and if you refer on the photo in my post "Taking a Leap Away from Quick Snapshot", the white sands at the tip is actually the angle where the island starts to bend.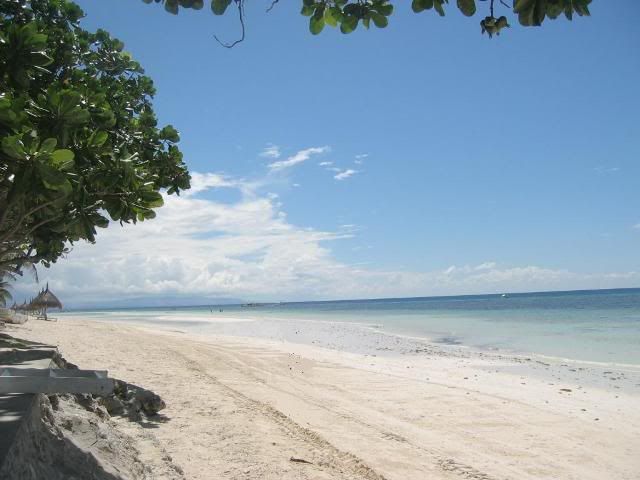 This is the area fronting our room but it's not literally right in front, probably about 200 feet away since there's a restaurant in between and just right before you reach the beach front.